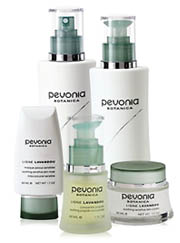 Pevonia Botanica products
Nature's finest marine and botanical resources synergize with high-tech manufacturing such as: time-released spherulites encapsutation technology, freeze-dried pure proteins, freeze-dried biomatrix, triphase cream manufacturing, microemulsification, micronization & high pressure homogenization....to ensure skin's maximum absorbency of repairing and rejuvenating actives. Holistic, potent ingredient at the highest un-qualed concentrations within cutting-edge for-mulations combine with professional expertise to promote an unforgerttable spa quest experience.
An integral part of Pevonia's philosophy is to maintain an affinity with nature and its precious resources. Pevonia's packaging is fully post-consumer recyclable and fully biodegradable. Pevonia maintain its solid stance against any form of animal testing.
Massage & Light Therapy Chair
Our SPa Massage & Light Chair is a Clean-Jet No Pipe System which prevents stagnant water and bacteria build-up, thereby reducing the risk of infections and disease which can be caused by traditional contaminated piped foot spas.
We invite you to relax in th comfort of the soft, plush. fully adjustable massage chair while our technicians pampers you in style.